Starting a blog can be a challenge for many. Often if you bought your domain as a standalone product—you'd need to acquire your own web hosting. Fortunately, various hosting plans can help you build your online presence—even with a tight budget.
It's smart to keep costs low when starting a blog; otherwise, the expenses can add up quickly. If you're searching for the best cheap web hosting for your blog or small business, then you've come to the right place.
In this guide, we'll break down the best cheap website hosting companies in the Philippines. I'll provide a detailed review and comparison to help you decide which one will work for your needs.
Web Hosting Vs Domain
Though domain names and web hosting are often purchased together, they are actually two different things.
What Is Domain Name?
A domain is your address on the internet. It's how visitors find you online and remember the name of your site.
To own a domain, you'll need to register it to a domain registrar.
You can't create a website without buying a domain name, though you can have a domain name without creating a website.
Example of Domain Name
google.com / facebook.com / nameofyourblog.com
Domain Name Generator
You can generate thousands of Domain name ideas, find suggestions and check availability instantly using this link.
What Is Web Hosting?
Web hosting is the property that addresses points to.
Why do we need web hosting? A web hosting company makes it possible for your website to be accessed by everyone on the web. Your website files needs to be put on a server (a computer) that visitors can access.
Choosing Web Hosting Services
When you choose a hosting service, there are a few important things to pay attention to:
Support – one of the biggest factors you must consider when choosing a host. In case you've encountered any problem, the tech staff is there to help you
Pricing
Backup

WordPress Integration

Server Power/Speed – a site that loads slowly is annoying
Free tools like WhoisGuard (domain privacy), Free SSL Certificates, Website Builders to save you some money
ProTip:
Use ".com" TLD as much as possible because people are most familiar with it.
Where To Get cheapest web hosting in the philippines
If you're new to blogging and not sure about which cheap web hosting plan to choose—my #1 recommendation is Dreamhost by far.
Dreamhost is a reputable and well-established brand that has been in the web hosting business for two decades (since 1997). They are one of just three top hosting companies to earn an endorsement from WordPress.org.
The company provides great value—impressive customer service, advanced technical support, exceptional features, and speedy load times, making them the best overall cheap hosting provider.
Dreamhost's Cheap Web Hosting Plan Features
Initial Price: Starting at $2.59/mo
Renewal Price: Remains at $2.59/mo
Custom Control Panel: Gives you admin access to all of your DreamHost products like information, add users, adjust email settings, gain access to promotions, and more.
Support: Tech veterans, geeks, and nerds are all standing by to optimize your experience. Whether you get in touch with our support, read knowledge base, or start a thread community forum
1-Click Installer: Dead-simple installation of web apps like WordPress.
100% Uptime Guarantee
Solid State Drives (SSDs): With SSDs, your website, caching, and database queries are faster (200% faster than HDDs by our calculations).
Award-Winning Support: 24/365 support from experts
FREE SSL certificate: Makes your website ultra-secure
Unlimited storage space and bandwidth
Not totally satisfied? Whatever the reason*, shared hosting customers can receive a prompt refund if they cancel within the first 97 days after signing up.
Here's a breakdown of the difference between Dreamhost's Shared Starter and the Shared Unlimited cheap hosting plans:
Dreamhost is the only provider that offers a monthly payment option if you don't want to or can't afford to pay the 3-year term.
Their Terms of Service state that they will compensate you if they don't provide 100% uptime, which is actually incredibly generous.
If you want a fair price, solid support, generous unlimited policy, go with Dreamhost. I recommend Dreamhost as the #1 cheap web hosting plan provider.
You can compare their plans and learn more right here.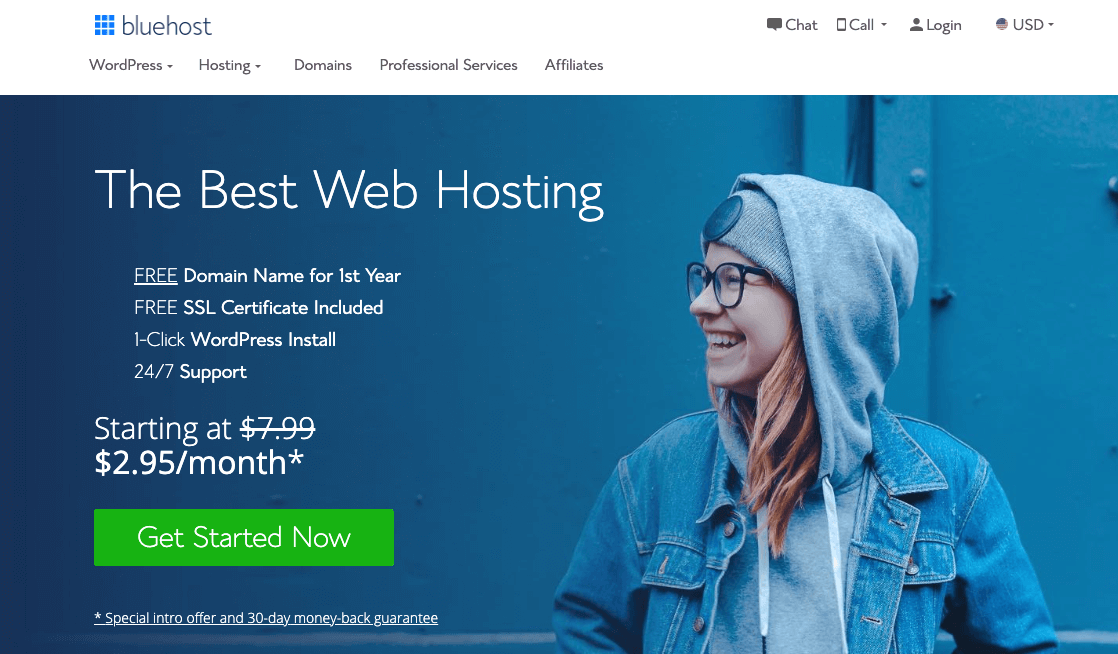 Bluehost is the favorite for personal and business web hosting because you can easily set up your site. Like Dreamhost, Bluehost offers affordable web hosting solutions for bloggers. You can get a FREE domain when signing up for some of their 1-year plans.
Bluehost's Cheap Web Hosting Plan Features
Initial Price: Starting at $2.79/mo
Renewal Price: Remains at $8.99/mo
Free domain for the first year
Bandwidth: Unmetered
FREE SSL Certificate
Email addresses: 5 to unlimited
Support: 24/7
Free website builder
30-day money-back guarantee
Bluehost Plans
Shared: The most commonly used option by individuals and small business owners alike. Starts from $2.75/mo
VPS: Upgrades from the Shared tier to provide a virtual private server, Enjoy increased power, flexibility, and control for your websites. Starts from $18.99/mo
Dedicated: Provides the utmost level of security and support for high-traffic websites. Starts from $79.99/mo
Shared Hosting Plans
If you are a startup or a small business, Bluehost is one of the best options you have. You can anytime upgrade your plan to a higher plan as your business starts to grow.
Bluehost is one of the top web hosting providers that offer robust customer support, security, free SSL certificate—don't forget about their low pricing plans.
Namecheap is best known as a domain registrar, and as the name implies, their web hosting prices are pretty competitive. Namecheap goes above and beyond by their 24/7 technical support and is willing to go the extra mile to ensure your site is up and running the way you want it.
Namecheap's Cheap Web Hosting Plan Features
Initial price: Starting at $1.44/mo
Renewal price: Increases to $2.82/mo (and up)
Support: 24/7 live chat
Money-Back Guarantee: 30 days
Domain: Free .free domain name offered (or a .com domain costs $8.28/yr)
WordPress: Easy installation (or use their own website builder)
SSL: Not included
Free WhoisGuard protection (You can claim it here)
Email address: Up to 50
There are several Namecheap hosting tiers:
Stellar Business: PHost up to 3 websites with the CMS of your choice. Includes a free Website Builder and email solution. Comes with free automatic backups as well and is PCI compliant and eCommerce friendly. Costs $1.58 per month for the first year.
EasyWP Starter: Powered by Namecheap's cloud platform, host your WordPress website with up to 50k visitors/mo and enjoy 10 GB storage. Costs $1.00 per month for the first year.
Qasar: Full VPS hosting with Linux-based servers, include full root access, giving you all the flexibility to run your business. Costs $15.88 per month.
Xeon E3–1240 v3: Invest in a physical server that's 100% yours. Includes full root access and all the customization possibilities—costs $41.88 on the first month.
Here's a breakdown of Namecheap's pricing:
I bought several domains at Namecheap. Their support is exceptional—anytime I can contact them for quick questions and complicated issues.
They also have an extensive knowledge base packed with step-by-step tutorials, and they can offer credit to your account if your site experiences any downtime. The only criticism I have is that they have no free SSL certificate. You have to buy it for $8.88/year. What I like about Namecheap is that they offer free privacy protection.
You can compare Namecheap's pricing plans and access the knowledgebase right here.
Hostinger will be your cheapest web hosting plan option (from a trustworthy company), hands down. And just because it's the lowest-cost hosting plan doesn't mean it can't also be a high-performance option. Many Hostinger powered websites actually load pretty quickly.
Even Hostinger's cheap web hosting plan offers a decent amount of the core hosting features you'd expect—like a one-click installation of WordPress. Their cheapest hosting plan also includes a free email address, which Dreamhost notably doesn't provide for free in their cheapest hosting plans.
Hostinger's Cheap Web Hosting Plan Quick Facts & Features:
Initial price: Starting at $0.99/mo
Renewal price: Increases to $2.99/mo (and up)
Domain: No free domain name offered (see prices here)
WordPress: Easy installation option (built-in website builder available too)
Bandwidth: Unlimited
Email addresses: 1 to unlimited
Support: 24/7
30-day money-back guarantee
Hostinger Pricing Plan
Hostinger have their own built-in website builder that you could use to build your website.
Here's a quick snapshot of the Hostinger pricing plan options:
Free Web Hosting Philippines
Hostinger Philippines also offers award-winning free website hosting. Get 300 MB of disk space, 3 GB of bandwidth, monthly backups, and a few more basic features to bring your website to life. Click to start now.
Hostinger is a fantastic web hosting plan to go with if you're seeking affordable, fast hosting. It's good, even if you're just getting started and want to learn the ropes without sacrificing quality. Their renewal cost is still meager too, there's a free drag-and-drop builder, 1-click installations, and the company ensures that all its plans deliver reliability and speed.
You can see their plans here to see if it's the right service for your business.
Liquid Web is a leader in managed hosting solutions. It has been in the web hosting space for 20 years. It delivers 99.999% uptime and around-the-clock support. It's secure, fast, and hassle-free, so you can entirely focus on other business operations.
LiquidWeb's Cheap Web Hosting Plan Quick Facts & Features:
Excellent dedicated, VPS, cloud, and reseller packages. (more suitable for growing and bigger businesses.)
State of the art VPS plans
Terrific customer support from dedicated personnel
Almost 100% uptime 24/7
High-end specifications
LiquidWeb Offers A Variety Of Services. Their Main Four Focuses Are:
VPS
Dedicated servers
Solid-state drives (SSD)
Web hosting
Pricing
Liquid Web provides Shared hosting though that is not their primary focus. The plans are relatively limited and are priced higher than many shared plans from other hosting companies.
Standard, 5 GB SSD storage, 240 GB of Bandwidth, and two free domain names for $14.95 per month.
Webmaster, 20 GB SSD storage, 400 GB bandwidth, and three free domain names for $19.95 per month.
Professional, a dedicated IP, 40 GB SSD storage, 640 GB bandwidth, and five free domain names for $24.95 per month.
Semi-Dedicated,s 40 GB SSD storage, 640 GB bandwidth, dedicated IP, and five free domain names for $40 per month.
Liquid Web's primary focus is on managed hosting through dedicated servers and VPS plans. For those needing dedicated servers, there are some configurable options.
single 4-core starting at $199 per month
single-6 core starting at $289 per month
dual 6-core starting at $349 per month
dual 10-core starting at $540 per month
dual 12-core starting at $899 per month
dual 14-core starting at $1099 per month.
You have the options to configure more RAM, more storage, Guardian Backup, Operating System, bandwidth, and more, for added fees from the starting price.
There are 10 VPS plans available that differ based on RAM and storage.
The starter plan is 1 GB of Ram and 50 GB of storage for $50 per month.
The next nine plans provide free SSL and free domain registration and start at 2 GB of RAM and 100 GB of SSD storage for $79 per month
512 GB of RAM and 1.8 TB of SSD storage for $2010 per month.
Use Code LABEL33 and Get 33% off 3 months of Managed WordPress
Cloudways is a relatively new player in the web hosting space, making it easier for people to host websites (especially WordPress) in the cloud.
Cloudways gives you the option to choose between five different cloud platforms, including Amazon Web Services and Google Cloud Platform, which are considered among the most popular options around.
With Cloudways, you can launch your managed cloud server on the following applications:
WordPress
Magento
PHP
Drupal
Laravel
Cloudways's Web Hosting Plan Quick Facts & Features:
Renowned Cloud Providers
Dedicated Server Resources
Multiple Applications
Unlimited Applications on a Single Server
60+ Global Data-centers
1-click Free SSL Certificate
Optimized Hosting Stack
Multiple Layer Security
Server & Application Cloning
Server & Application Monitoring
Staging Environment
Custom Varnish Rules
Pricing
Cloudways doesn't require users to sign up for a long-term contract. You can set up a pay-as-you-go account or even go with a free trial—all without putting a credit card on file.
Get 5% off all plans with code CLOUD5!
Domain.com is a web hosting provider that is US-based and was founded in 2000. Currently, the company offers shared server hosting, VPS, and domain name registration.
Domain.Com Quick Facts And Features:
Low price point.
24/7 chat and phone support
Free Website Builder
Complete storefront, analytics, and marketing e-commerce option
Full-service design & marketing support option.
Tailored WordPress hosting
30-day money-back guarantee on basic hosting
Pricing
Domain.com offers three different Linux Hosting Plans.
Basic plan starts at $3.75/mo
Deluxe plan starts at $6.75/mo
Ultra plan starts at $13.75/mo
The Windows Shared Hosting Plans are divided into three types, just like the Linux ones, and there are substantial differences among all of them. The Windows basic plan starts at $4.75 per month.
Domain.com also offers VPS (Virtual Private Server) services which start from $29.70 per month for annual plans.
10% off Sitewide at Domain.com with coupon code DOMAIN10
Based in Houston, HostGator is a web hosting provider specializing in offering worldwide customers top-of-the-line services from shared hosting, VPS hosting to a dedicated server. It was founded in 2002 and was acquired by Endurance International Group in 2012.
HostGator's Cheap Web Hosting Plan Quick Facts & Features:
Initial price: Starting at $2.75/mo
Renewal price: Increases to $6.95/mo (and up)
Support: 24/7 customer service (phone, live chat)
Money-Back Guarantee: 45 days
Domain: Free domain name included
WordPress: Easy 1-click installation
SSL: Free SSL certificate included
Email address: Unlimited
$100 Google Adwords credit
Pricing
Here are the pricing options HostGator offers on their cheap web hosting plan:
Like Dreamhost, HostGator also offers a monthly payment option.
The only potential disadvantage to HostGator is that they're not as fast as other hosting companies, but you can learn more about HostGator's plan options right here and make the decision for yourself.
Promo Code: GATORMODEL and Get Up to 60% Off Hosting and 55% off Gator Website Builder!
---
And that's it!
We've made it through my in-depth review and comparison of the best cheap web hosting plans in the Philippines for bloggers and business owners in 2021.
So, What's The Best Cheap Web Hosting Plan?
At the end of the day, the answer is up to you. As we've discussed, there is no shortage of web hosting options out there which can make finding the best one an intimidating challenge.
If you regret making the wrong choice, it's okay. The cheap web hosting plan you choose today doesn't have to be the one you stick with for the rest of your life.
If you know what you need, your budget, and what kind of platform can help you grow your site, you're on your way toward picking the right web hosting. Pay attention to the pricing, support, and add-on solutions—like website builders and other tools.
Better if the company has top web design and options, offers 24/7, among other resources. If you're having trouble deciding, you can reach out to their customer support to learn more about their offers.