What Is Tonik Bank?
Tonik is the first neobank (full-digital bank) in Southeast Asia. It offers no-frills deposit accounts and simple loan products to Filipinos underserved by the traditional banking system. 
Tonik offers revolutionary online banking on a highly secure mobile platform to disrupt the Filipino retail banking industry. Tonik is supervised by the Bangko Sentral ng Pilipinas (BSP), and its clients are insured by the Philippine Deposit Insurance Corporation (PDIC) for up to Php500, 000.
 To use Tonik, you must first download the app and create an account. You will be able to utilize it as a savings bank, allowing you to send, receive, and store money after successful verification. You may also invest in time deposits and apply for a personal loan.
How Tonik Bank Philippines Works
Tonik is different from other banks because they do not accept walk-in customers at branch offices; instead, all transactions are done through their mobile app or website.
This may seem like an inconvenience, but it saves them money on rent expenses and various other operational costs. These savings are passed on to the customer in better interest rates for savings and lower fees for their loan products.
Tonik Interest Rate
Tonik Account
| Balance | Rate (per annum) |
| --- | --- |
| End of Day Balance | 1.00% |
Solo Stash
| Balance | Rate (per annum) |
| --- | --- |
| End of Day Balance | 4.00% |
Group Stash
| Balance | Rate (per annum) | Rate (owner + at least 2 participants) |
| --- | --- | --- |
| End of Day Balance | 4.00% | 4.50% |
Time Deposit
| Term | Rate (per annum) |
| --- | --- |
| 6 months | 6.00% |
| 9 months | 4.50% |
| 12 months | 4.75% |
| 18 months | 5.00% |
| 24 months | 5.25% |
Is Tonik Bank Safe?
Tonik is safe and secure. Tonik operates under PDIC regulations, meaning that there are measures in place to protect clients. Always look for security signs on your mobile app before you transact.
Tonik Bank Features
Savings Account
This is the primary savings account given to all customers who pass through the registration process. Funds will earn a 1% interest rate per annum and be paid out every month. This makes savings a lot easier and more convenient for every Filipino.
Time Deposit at 6% interest
Their most advertised product is the time deposit account, which offers a 6% interest rate. No other bank has offered such a rate.
You can set the starting amount to their time deposits for as low as P5,000 and open up to 5-time deposit accounts. Tonik does not charge early withdrawal fees or penalties. It even has an in-app calculator on how much you will earn by the time your investment matures.
But the real highlight of Tonik's time deposit feature is its massive 6% interest rate per annum. You can choose from 6-months, 9-month, 12-month, 18-month, or 24-month terms with your deposit being automatically rolled over at maturity.
Bank
Term
Minimum
investment amount
Interest Rate
Source
Tonik
6 months
P5,000
6%
Tonik time deposit
BDO
6 months
P1,000
0.1250%
BDO peso time deposit
BPI
6 months
P50,000
0.1250%
BPI time deposit rates
Security Bank
6 months
P100,000
0.5000%
Security Bank peso time deposit
UnionBank
6 months
P50,000
0.325%
Unionbank peso time deposit
Landbank
6 months
P1,000
0.275%
Landbank interest rates
Eastwest Bank
6 months
P10,000
0.125%
Eastwest Bank interest rates
PNB
6 months
P10,000
0.150%
PNB fixed term deposit
UCPB
Up to 90 days only
P10,000
0.125%
UCPB time deposits
Metrobank
6 months
P10,000
0.875%
Metrobank online time deposit
Unfortunately, as good as this offer sounds, I checked the app and found out that the 6% interest rate is more of an illusion.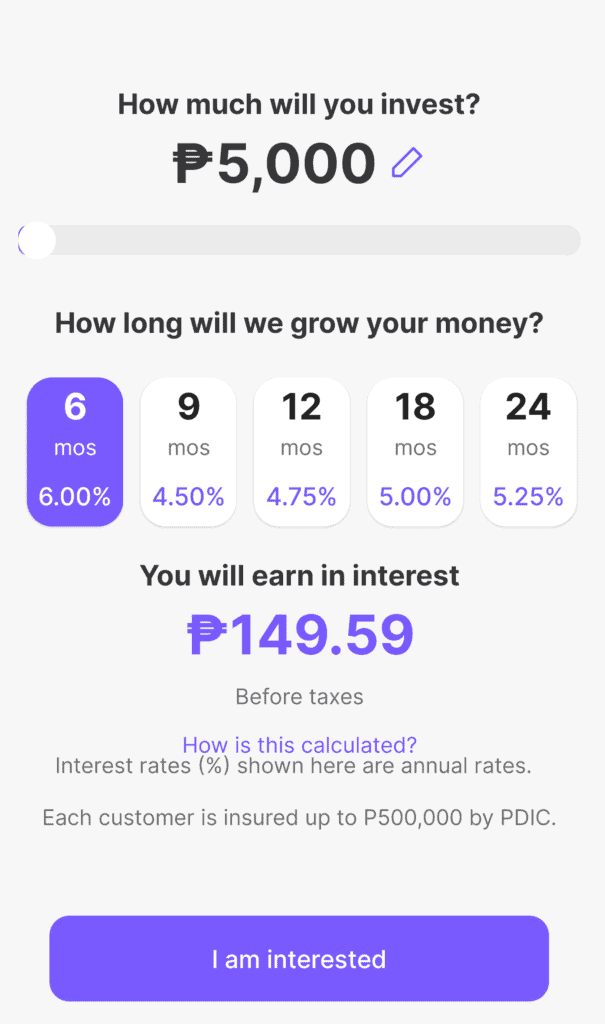 You will notice that the 6% interest rate PER YEAR is only available on the 6-MONTH TERM. This is just a marketing front of Tonik. However, what is good is that they have a roll-over function after maturity. Yet, there is no guarantee whether the rate will remain at 6% by then.
It is a little disappointing, but Tonik's offer remains excellent compared to all its competitors.
Stashes
Stash is what separates Tonik from other digital banks. Stash is like a digital piggy bank where you can earn 4% interest a year. All you need to do is open an account and transfer your funds.
 This is inspired by the Filipino saving scheme – the "paluwagan" system.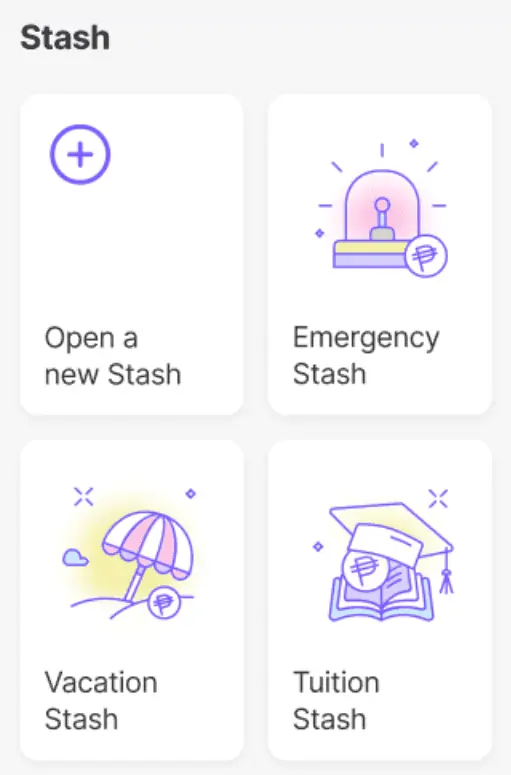 Group or Solo?
There are two things I like about Stash. The first one is you will have the option to build savings alone or with other people. You can open a solo or a group stash.
At least three people, including the stash owner, can open a Group stash. They can put in money in their shared stash and earn as much as 4.5% interest per annum as they save together. 
The Solo Stash can earn as much as 4% in interest per annum and funds can be withdrawn any time without a locked period.
One advantage of a group stash is it has a higher interest rate compared to solo accounts.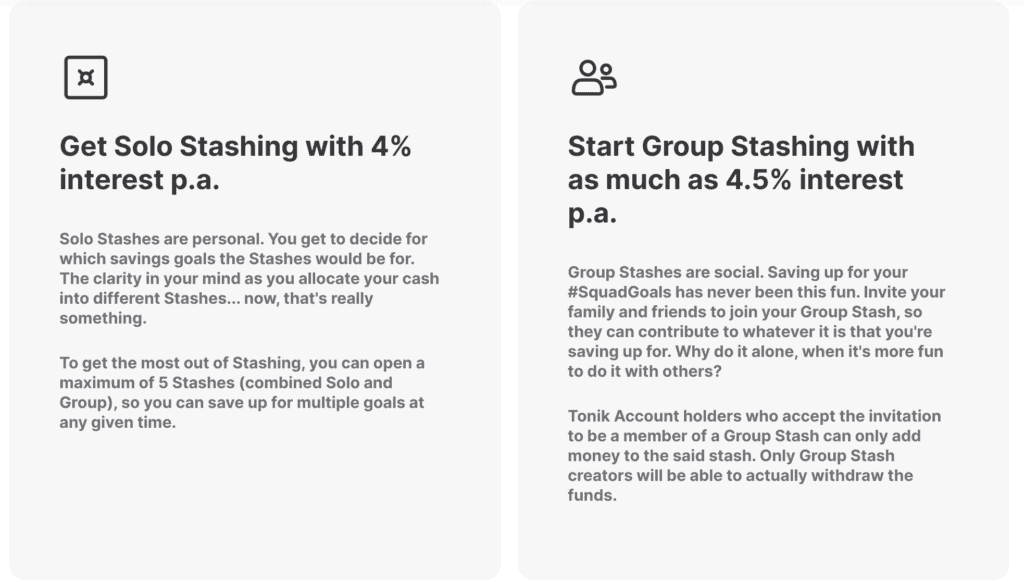 You can also customize your stashes. You can change the target amount and add pictures to keep you motivated and on track with your savings. You can also change the title of your stash to define the purpose of each account.
Transfer Money to Other Banks Via Pesonet or InstaPay
With Tonik, you can send money to virtually any bank in the Philippines using powered by both PESONet and InstaPay. Furthermore, you will also have better control over your transfers as PESONet and InstaPay complement each other.
PESONet can transfer P100,000+ for free, but it may take up to the next day to successfully credit the fund to an account. InstaPay, on the other hand, transfers money in real-time for a fee, and up to P50,000 per transaction only.
Having powered by both PESONet and InstaPay together in one app is an excellent feature. Not many mobile banks have these.
Receive Money from Other Banks
You can use Tonik to receive money from other banks.
BANKS AND E-WALLETS THAT CAN TRANSFER FUNDS TO TONIK
| | |
| --- | --- |
| BDO | No |
| BPI | No |
| UNIONBANK | No |
| ING | Yes |
| CIMB | Yes |
| GCash | No |
| PayMaya | No |
| PayPal | No |
Tonik has a "top-up" feature that enables you to load money from other apps and services. As of now, the top-up function is only available with BDO Direct (BETA), BPI, and Unionbank. You can also top-up with GCash, with a P25 transaction fee.
As for cash deposits, you can do over-the-counter top-ups, which have a maximum of P5,000 per transaction at the following establishments:
Cliqq
7-Connect
Cebuana
M Lhuillier
SM Business Center
Personal Loan
Tonik allows you to apply for a personal loan in 15 minutes or less. All you have to do is set the amount you need, choose an installment period, and fill in your personal information within its app.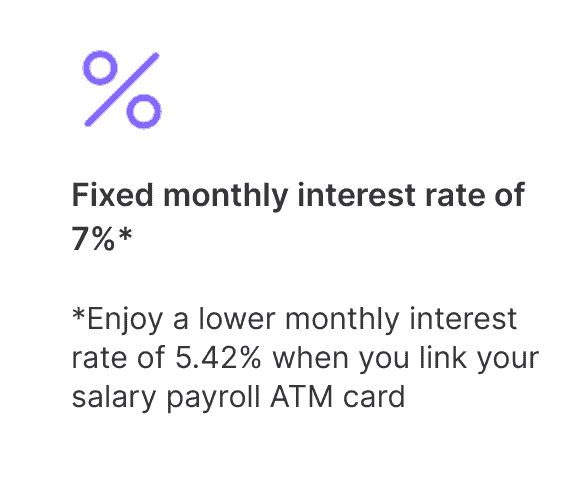 Tonik's monthly interest rate Vs Other Banks
| Bank | Loanable Amount | Term | Monthly Interest |
| --- | --- | --- | --- |
| Tonik | P5,000 ~ P50,000 | Up to 24 months | 7% |
| PBCom | P40,000 ~ P1,000,000 | Up to 48 months | 1.58% |
| RCBC | P50,000 ~ P1,000,000 | Up to 36 months | 1.30% |
| MayBank | P50,000 ~ P1,000,000 | Up to 36 months | 1.50% |
| Citi | P20,000 ~ P2,000,000 | Up to 60 months | 1.26% |
| HSBC | P30,000 ~ P500,000 | Up to 36 months | 1.21% |
| BPI | P20,000 to P1,000,000 | Up to 36 months | 1.20% |
Source: ecomparemo.com
Tonik says they can put the monthly interest down to 5.42% when you link your ATM card with them. Yet, it is still high compared to other banks.
Virtual MasterCard
Another service offered by Tonik is the Virtual MasterCard which allows you to withdraw and spend your money in shops or restaurants all around the Philippines. It's very convenient for people who want to get away from carrying large amounts of cash.
The virtual card comes with several security features that let you hide your card number, set amount limits, and block certain transactions. You also have the option to lock the virtual card if you do not plan to use it.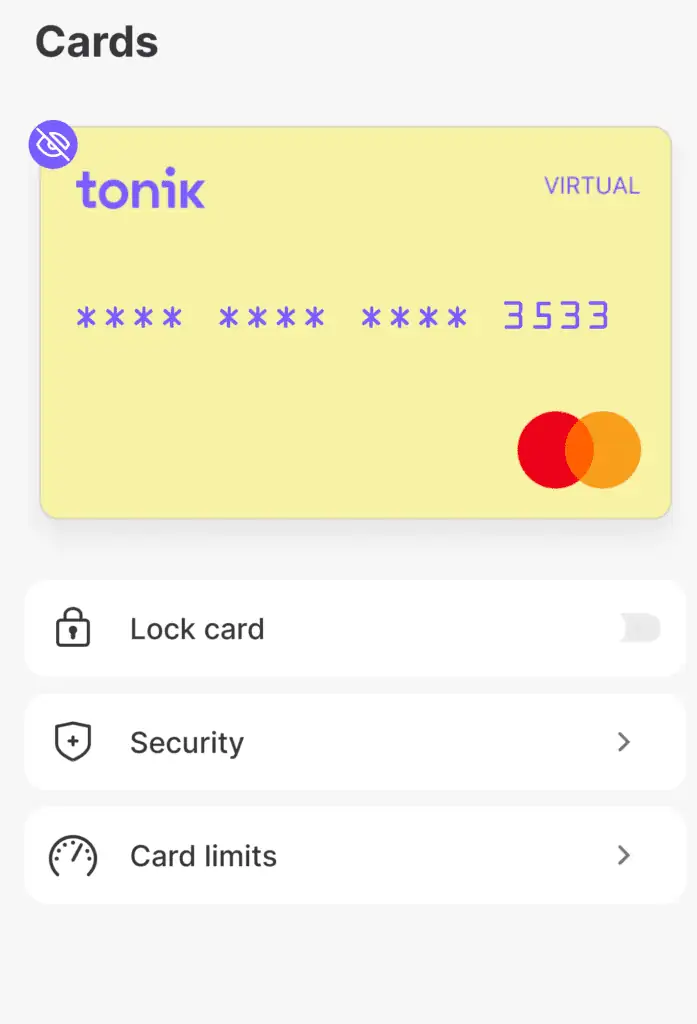 Debit Card
Tonik offers a physical card service that you can use to withdraw cash from any ATM in the Philippines and pay for products and services at merchants.
All you need to do is confirm your address, and they will deliver it to you. The card, however, costs Php 300.
There is also a fee of about Php 250 every time you withdraw from ATMs. Lowering the fees is something Tonik is currently working on. They said a better version of the debit card would be released by the end of the year.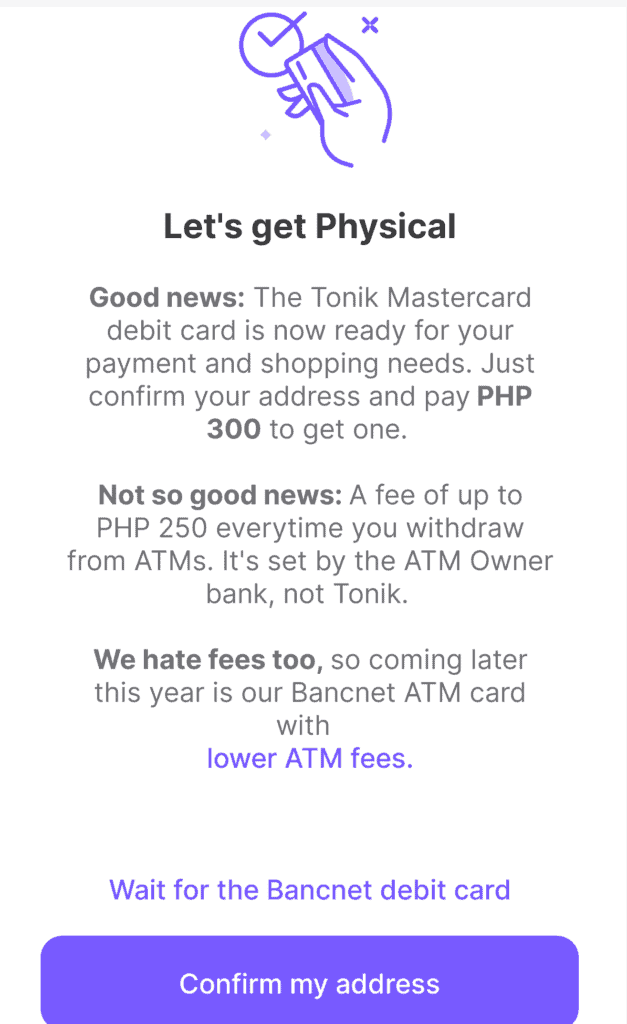 How to Open an Account in Tonik Digital Bank
Here's how to download and register at Tonik. 
Download the Tonik app via Google Playstore or App Store. 
Enter/register via your mobile number. 
Agree to the Terms & Conditions and Data Privacy Statement.
Enter the verification code sent to your mobile number. 
Confirm your identity through selfie registration. 
Scan and upload your ID. 
Enter your personal details. 
Enter your employment status
Enter your email and mother's full maiden name.
Provide your signature by signing on the screen.
Create your application password. 
Here's the list of accepted IDs
Philippine passport 
Philippine Driver's License 
Unified Multipurpose ID (UMID) 
Social Security System (SSS) 
Professional Identification Card (PRC ID) 
Firearms ID
How to Cash In And Cash Out + Fees
You can cash in or cash out through different channels and banks.
Check out below for cash in and cash out fees: Cash in and cash out are free for the following channels.
Tonik vs. CIMB
CIMB is one of the biggest banks in Southeast Asia, and they offer a wide variety of financial products. But when it comes to savings accounts, they only have a 2% interest rate. If you're interested in having an online-only bank account, check out Tonik Bank because it offers a 6% time deposit account.
Closing Thoughts
Tonik Bank is a provider of financial services in the Philippines that was recently launched in March 2021. It offers an efficient and user-friendly experience where convenience gives the best online banking platform. Tonik aims to disrupt conventional banking models by using innovative methods to provide Filipinos with a simpler way of managing finances.
In this post, we learned how to use Tonik features. Digital banks and e-wallets have certainly transformed how we do banking today.
I just opened an account and currently exploring the Tonik Digital Bank. I love its security features, I can turn off the card to prevent hackers from accessing my money. I also requested for physical Debit Card for shopping and withdrawing cash.
One thing Tonik can't do at the moment is bills payment. I hope they can add this feature soon.
For now, I love Tonik and its brand personality.
Visit Tonik's about us page to learn more, hun.