What is Fiverr?
Fiverr is one of the biggest marketplaces for digital services starting at $5 (hence the name Fiverr). It is used by over 5.5 million buyers and freelancers like designers, programmers, consultants, writers, etc. This wide range of services that are available for marketing grants you the power to work with a broad range of audiences.
Fiverr also offers a profitable affiliate program to promote its gigs. It's one of the best high-paying affiliate programs. You can earn up to $150 for each new buyer you refer to Fiverr. Anyone from any part of the world can join this program and promote Fiverr services to almost any site, blogs, social media, podcasts, etc.
In this post, we'll discuss everything about the Fiverr affiliate program—how it works and how you can promote its services.
How Fiverr Affiliate Program Works
Fiverr affiliate program works in 3 steps:
2. Promote Fiverr Products and Services
Once signed up, you'll get an affiliate link that includes your unique ID, that way you can track every new customer you refer. When promoting Fiverr's products, always use your unique affiliate link to assure you receive a commission for new customers you bring to Fiverr.
You can find your affiliate ID in your affiliate link under the BTA parameter. Share it to your target audience via your website, social media, etc.
3. Start Earning
Get paid the moment your buyer purchase a service you promoted.
Your affiliate link includes a 12-month tracking cookie. This means that if a user clicks and registered via your affiliate link within 12 months, you will be credited with the referral.
Fiverr Commission Plans
Fiverr offers 5 commission plans:
Fiverr CPA (cost-per-action)
Fiverr Hybrid
Fiverr Learn – where you can buy and promote premium courses for as little as $19
Fiverr AND CO – supply business software for reporting, time and expense tracking, creating proposals, contracting, invoicing.
1. Fiverr CPA ($15-150 CPA)
In Fiver CPA, you'll get a one-time commission of $15-150 for every new buyer, depending on the service the buyer purchases. You will be qualified for a CPA commission when a first-time buyer (FTB) purchases a service for the first time.
This link will direct your users to Fiverr's homepage. If you would prefer to direct your users to a specific page on Fiverr, all you need to do is create a deep link.
Here are the commission rates for various Fiverr CPA categories:
$150 CPA Categories
Fiverr Pro (All Fiverr Pro services)
$50 CPA Categories
Whiteboard & Animated Explainers (Video & Animation)
Book & eBook Writing – NEW! (Writing & Translation)
Architecture & Interior Design – NEW! (Graphics & Design)
Game Development (Programming & Tech)
$40 CPA Categories
Website Builders & CMS (Programming & Tech)
Mobile Apps & Web (Programming & Tech)
WordPress (Programming & Tech)
Web & Mobile Design (Graphics & Design)
E-Commerce Development (Programming & Tech)
$30 CPA Categories
Web Programming – NEW! (Programming & Tech)
SEM – NEW! (Digital Marketing)
Website Content – NEW! (Writing & Translation)
Proofreading & Editing – NEW! (Writing & Translation)
3D Models & Product Design (Graphics & Design)
Packaging Design – NEW! (Graphics & Design)
Business Plans – NEW! (Business)
Data Analysis & Reports (Programming & Tech)
Short Video Ads – NEW! (Video & Animation)
$15 CPA
All Other Categories other than above.
2. Fiverr Hybrid ($10 CPA + 10% RevShare)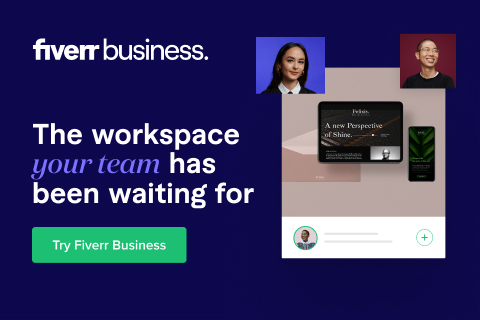 Promote Fiverr.com and get a commission of $10 + 10% revenue share for 12 months for every new buyer.
Keep in mind, the default link will direct your users to Fiverr.com. If you would prefer to direct your users to a specific page on Fiverr, all you need to do is create a deep link.
The difference between Fiverr CPA and Hybrid CPA is that in Fiverr Hybrid you get settled commissions + 10% revenue share no matter what services you promote whereas in Fiverr CPA your commissions differ for the type of services that you promote.
In Fiverr Business, You'll earn $100 CPA once the account reaches $100 in spend + 10% RevShare for 12 months.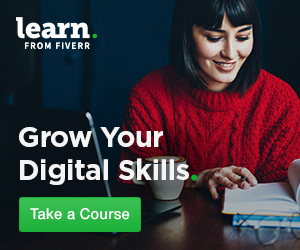 Fiverr Learn is an educational platform that offers practical skills to businesses and freelancers. You can earn a 30% commission for every course order.
AND.CO is an app to run freelance businesses or studios. You can earn a 30% commission for the sale of every AND.CO Pro plan.
How To Join Fiverr Affiliate Program
How to Join Fiverr affiliate program on Fiverr.com
Log in to your account. Go to "Account Details" and select "Personal Information". Click EDIT, and fill in your company's details or your private information. Once you're done, click SAVE.
Under "Sources" provide the source that you plan to use to promote Fiverr. It can be a website, a Facebook page, an Instagram account, a blog, a LinkedIn page, a YouTube account, etc. Click EDIT, and fill in your sources. Once you're done, click SAVE.
For a company account, please provide your official website or LinkedIn page.
Under "Payment Details" click EDIT to add your payment details, including payment method, currency, address, and account type.

How to Join fiverr affiliate program on Awin
Log in or create your account here. Go to Advertisers tab > My Programmes > Select All Advertisers. Search Fiverr.
Click Join Programme to apply to the program. You have the chance to write a note to each Advertiser. This is a great place to showcase what sets you apart from other content creators.
Fiverr Affiliate Payment Method
The minimum threshold for requesting your payments on Fiverr is $100. You will see a Request Payment button once your earnings reach the threshold of $100.
Fiverr affiliates are paid via three payment methods: Wire/ACH Transfer, Wise, and Payoneer. It means that anyone from any part of the world can become an affiliate with Fiverr.
How To Use Marketing Tools On Fiverr
Marketing Tools on Fiverr provides you banners, affiliate links, and deep links for different Fiverr services.
Fiverr Affiliate
Login to your account here
Go to "Marketing Tools" and select "All Marketing Tools"
Use the filtering options to find your best creative.
Once you choose a filter or filters click the SHOW CREATIVES button.
Filter by Brand – you can choose between Fiverr CPA (default), Fiverr Hybrid, Fiverr Learn, and AND.CO
Filter by Type – select the marketing tools type
Filter by language – select language
Filter by Name – select the right banner based on the Fiverr page you want to promote
To remove filters click Clear Filters.
Filter by Size – you can choose a creative based on image size
Click on "Show Creatives"
If you want to get the HTML code of a banner click GET HTML CODE.
Awin
You can find Fiverr banners and other images by hovering over the Toolbox tab and clicking My Creative.
Use the filters at the top of the page to find exactly what you are looking for, and can filter by type of creativity, dimensions, and specific advertiser(s). Once you have selected a banner, click Copy Code and paste it into the source of your website. These banners function the same as any normal tracking text link.
How To Create Deep Links
A deep link is a link to a specific page of a website. Fiverr Affiliate Program provides you the option to create deep links for any page or service.
Creating a deep link – Fiverr website
Click Marketing Tools. Select Default and Deep Links.
Click on the "LP URL" button. A pop-up box will appear
Paste the URL of a page for which you want to create a deep link.
Paste the relevant Fiverr link to the pop-up box and click out
Copy the link by clicking on the "Copy to clipboard" icon
Place the link on your site
Creating a deep link – Awin
Select an advertiser using the drop-down menu
Paste the product page URL into the Destination URL box
Choose whether you want the link in URL or HTML format
The complete URL for your tracking link will appear in the large box labeled Your Deep Link. Click Copy Link to copy the link so you can paste it onto your site.
Fiverr Affiliate Program: Pros vs Cons
Pros
Maximum Earnings – Get paid for every first-time buyer with no referral limit and a lifetime attribution
Professional Support – Gain access to professional support, tutorials, and a dedicated Affiliate manager
Easy-to-use affiliate dashboards
Creative Assets
Deep linking available
Many payment options
Cons
Affiliates get a commission for first-time buyers only.
You need to be careful of what you're promoting as not all gigs on Fiverr are of great quality.
The affiliate payment threshold is pretty steep (you only get paid after you've earned $100+ dollars)
Fiverr Review

Fiverr Affiliate Program has been made especially for social media influencers, content creators, promoters, and anyone who has a large audience of people who might be interested in using Fiverr and is not using it currently. You can promote all of Fiverr's services including Fiverr, Fiverr Pro, Fiverr Learn, and Fiver AND.CO
As is the case with any other referral and affiliate programs, Fiverr has its share of advantages and disadvantages.
But it's an excellent opportunity for you to make money as an affiliate. Fiverr is well-known across the world. They have no real competitors and they're growing year over year. It also has a series of good tools, it's free to join, and there's no hassle when it comes to being accepted!
Now is the best time to join.
I'll leave you the link below.
BONUS
Get your FREE Ebook! "Set up Your Business for Success"
FAQs
Does Fiverr have an Affiliate Program?
Yes, they do. Click here to join now.
Is it Free To Join Fiverr's Affiliate Program?
Can I Sign up to Be A Fiver Affiliate From Anywhere in the World?
Yes, you can. Fiverr operates in all countries and territories in the world.
How Much Money Can I Make as a Fiverr Affiliate?
Is my Fiver Account the Same as My Affiliate Account?
No, they are not the same. If you're a Fiverr user, then you joined either as a buyer or seller. And that immediately enrolled you into their referral program. You can refer to Fiverr through email contacts or social media connections by clicking the "Refer a Friend" button. You'll get 20% commission for each purchase they make on Fiverr.

Is There a Fiverr Coupon Available?
Right now there are no Fiverr coupons available.