This is the most comprehensive guide about the Amazon affiliate program (also known as the Amazon associates) in the Philippines.
In this post, you'll learn:
What is the Amazon affiliate program?
Amazon affiliate commissions?
How to signup as an Amazon affiliate?
What are the requirements for Amazon affiliate in the Philippines?
What are Amazon affiliate disclosures?
How to get an Amazon affiliate link?
Amazon associate vs. Amazon affiliate?
Amazon affiliate payment proof?
Amazon is the world's biggest e-commerce store. They have established itself as the best e-retailer over the decades, and the trust it has with its customers makes them buy items from them over and over again.
Chances are you have browsed or purchased a product from Amazon at least once.
Now, can you earn money from Amazon? The short answer is yes.
As a blogger, freelancer, student, or even as an influencer, you can make money from the Amazon affiliate program.
Amazon Affiliate Program Philippines: How Does It Work?
What is Amazon affiliate program?
Amazon Affiliate Program, aka Amazon Associates program, lets anyone, including digital marketers, website owners, bloggers, YouTubers, Social media influencers, earn money from Amazon products and services.
Once you have an Amazon associate account, you can recommend any product on your blog, YouTube channel, Facebook, Twitter, Instagram, or other platforms and earn a huge commission.
Note: Amazon associates and Amazon affiliate program are the same things. We can interchangeably use both in this post.
How Does Affiliate Marketing Work?
Let's understand this with an example:
Yong is a blogger who finds an interesting laptop on Amazon. Now, he wants to write about it and let others know about this new laptop.
One way, he could write about the product and put affiliate links on the product. He also read this detailed guide about the Amazon affiliate program and followed all the steps. Now, from here on, when his users click on his blog link to visit Amazon and purchase the product, he also makes a commission on every sale.
While pursuing his hobby as a Youtuber and blogger, he earned money to pay his tuition fee, fund his new travel plans, and grow his e-Commerce business.
Well, now replace Yong with your name and his blog with your blog or social media platforms.
This could be easily done by you looking for a way to earn passive income.
Sounds good?
In the other section of this guide, you will learn to start the Amazon affiliate program.
Amazon affiliate Requirements
It is completely free to join the Amazon affiliate program.
Choose from these categories who could join the Amazon affiliate program:
Blogger/Website Owners: You can sign up for the Amazon affiliate program if you have an existing blog or website. If you don't have one yet, read this guide to start a blog in the Philippines.
YouTubers: You can apply with your YouTube channel.
Amazon influencer: a new program for mini-celebrities or social media influencers. Anyone can join. You can find more details here.
Amazon Affiliate Earnings/commission rates in 2021
Amazon gives a flat affiliate commission rate for a product in a specific category. However, different types have different commissions.
Here's the new Amazon affiliate commission rate.
If you are a newbie, choose a niche or product that offers larger commissions.
For example, luxury beauty and Amazon Coins offer a 10% commission rate for every sale. If one of your visitors clicks your Amazon affiliate link and purchases a product worth $100, you will get a $10 commission.
Amazon Affiliate Commission – bounty events
Amazon also has many programs like Amazon Prime, Amazon Music, Amazon audible, Amazon Kindle, etc.
For bounties, Amazon offers one-time commissions (Bounty) ranging from $0.5 to $15.
Amazon Affiliate Signup
Before this, one important thing.
Do you know that Amazon has a localized website for every country? Each Amazon store has its own Amazon affiliate program.
For example, if you are from Japan, you will be shopping at Amazon.jp; if you live in the US, you will be shopping at Amazon.com. For the Philippines, we use Amazon.com. Yes, Asian bloggers can join the Amazon affiliate program.
Which Amazon associate program should you join?
You can join all the Amazon store's affiliate programs. But to keep things simple, you should sign up for the Amazon affiliate program for the store located in your country or closest to your country.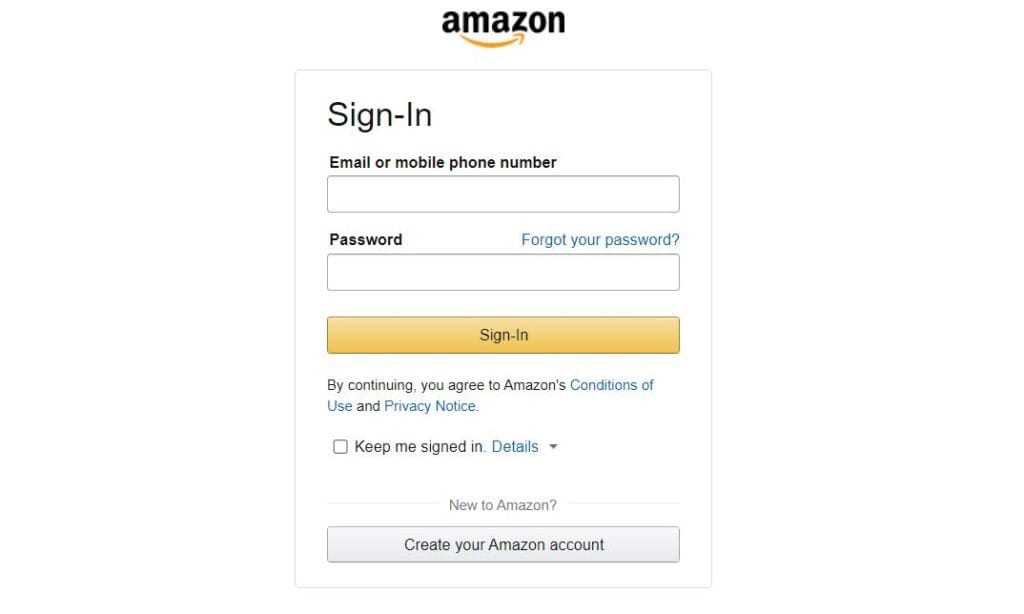 Go to the store link on which you want to create your affiliate account.
Click on Join now and log in with your Amazon account login or if you don't have an Amazon account, click on create one.
After selecting the account information for payment, you will need to enter your Website, YouTube channel, or Android/iOS app link on the next page.
Once done, select Next and fill up your profile. Once done, you will see the dashboard.
If you have questions, comment below. I will help you clarify your confusion.
Once done, click on Next and fill up your profile. Once this is all done, you will be inside the Amazon associate dashboard, which will look something like this:
How to Earn as an Amazon Affiliate?
Suppose you have signed up already for the Amazon Associates program. If not, do it now. (Amazon USUS Store).
To start earning money, get links, banners, or widgets for your site.
Depending on your niche, you can add various types of links.
If you have a gadget website or Facebook page, you can create a page called "Recommended Gadgets."
If you have a book blog, you can Kindle books affiliate link on the sidebar.
To become an Amazon affiliate, sign up using this link: Sign up for Amazon.
How To Increase The Conversion Rate
Include More Links
Be sure you're using a catchy color for buttons so that it attracts the visitor. You need to get a click because you get the user to drop a 24-hour cookie on Amazon.
Use A Link Localizer
80% of affiliates don't use a link localizer and they are losing money.
Here's how this works…
If you're a Filipino, you can target these countries, for example, the USA, Canada, UK, Philippines.
70% of my affiliate income is from the Philippines, which is common for many affiliate marketers. But countries can give good conversions as well.
When a user from the US clicks my link, it redirects them to the US Amazon store. When a user from Canada clicks on a link, it takes them to the Canada Amazon store.
Exit-intent pop-up
This strategy is used in money blog posts for boosting conversions. Take a look at the example screenshot below.
You can create a similar popup with the help of Elementor or OptinMonster.
Promotion Is Important
Posting and praying that traffic will come doesn't work anymore. You have to quality time promoting the content.
From the first time you post your first article, you should create a separate profile for your brand or niche blog on each social media platform like Facebook, Twitter, Pinterest, LinkedIn, etc. Whenever you add new content, you should post them on your social media.
Amazon Payment
I use Payoneer for getting payments from my affiliate networks and then transfer them into my US-based bank account.
Sign up on Payoneer using this special link and earn $25.
Related: Payoneer Philippines Exclusive Promo [Earn Free $50]
Best Amazon Affiliate Program Alternatives
ShareASale is the best affiliate network, in my opinion. I have seven different blogs at the moment and with ShareASale, I don't have time to search around for affiliate products I am discussing in my articles. They offer up to 55% commission. That's huge!
Signup for ShareASale Affiliate Program
Related: How to Earn Passive Income With ShareASale
If you're a developer, SEO specialist, digital marketer, consider Bluehost. Bluehost is the #1 web host for most people and you'll earn $65 per successful sale you make. 
Signup For Bluehost Affiliate Program
 Involve Asia is a popular affiliate marketing network in the Philippines. It gives publishers opportunities to earn commission through products recommendation and reviews. Involve Asia offers up to 10% commission from Shopee, Lazada, and other well-known brands. The only downside is commissions are low.
Signup for Involve Asia Affiliate Program
Related: Make Extra Income with Shopee & Lazada Affiliate Program (Involve Asia Guide)
Grammarly is the world's leading software suite for perfecting written English and is one of the best affiliate marketing products. You can get up to 8% commission on the products. Students, freelancers, bloggers. They give $20 per premium account upgrade with a long 90-day cookie window. In my experience, they have the highest conversion rate.
Signup for Grammarly Affiliate Program
GetResponse is another big player in the affiliate marketing industry. The product is strong and they are a leader in the marketing software industry with a solid reputation.  As an affiliate, you can choose a $100 per Sale bounty program or a $33% affiliate recurring program (every month). They have a 120-day cookie system. Moreover, the affiliates could get paid via PayPal.
Signup for GetResponse Affiliate Program
Kwik.insure is the Philippines' largest online insurance marketplace. They empower Filipinos to earn more even during the pandemic. Affiliates will get referral payouts of up to 10 percent of the net premium. It's a good program if you're into finance.
Signup for Kwik Insure Affiliate Program
I'm sure you have heard of Fiverr, one of the most popular freelance marketplaces in the world.
The place that allows you to get all kinds of cheap services for your business. Graphic design, Spokesperson videos, SEO, Copywriting, Web design, etc. You can get a 30% lifetime commission on every sale.
Signup for Fiverr Affiliate Program
Related: How To Make Money with Fiverr Philippines Affiliate Program(Up to $500)
Wrapping Up
Let me tell you something honestly: I have been blogging for a long time now. There are literally a ton of ways to earn money online but Amazon Affiliate Program is one of the best ways to earn passive income. Amazon is one of the largest and most successful affiliate programs used by bloggers and affiliate marketers. The reason it converts so well is because of the product's features, pricing, customer support, and so on.
So if you're someone who's looking to promote a reliable affiliate program to your target audience to increase your affiliate income, you should definitely give Amazon a try.
I also shared the seven best Amazon Associates alternatives. There's a huge number of good affiliate programs out there. You might find a few more along the way. My advice: Don't depend on a single source of income.
Do you've any questions about this detailed guide of the Amazon affiliate program? Share your thoughts in the comments.